TO KNOW CHRIST | TO SHOW CHRIST | TO SERVE CHRIST

Sunday Service Times
| | |
| --- | --- |
| * FREE Breakfast: | 9:00am |
| * Sunday School Open Session: | 9:20am |
| * Sunday School For All Ages: | 9:40am |
| Morning Worship Service: | 10:30am |
| Fellowship & Refreshments: | 12:00pm |
* September through to June.

Sunday School
9:00am

Sunday School
is a primary time of Christian instruction and family time with classes for all ages. At 9:00am everyone gathers together for an open session in the Fellowship Room. Familiar songs are sung, a story is read, and often games and activities are enjoyed. Sunday School sponsors children from other nations through organizations like
World Vision
and
Mighty Oaks Global Initiatives
. It's a time to celebrate birthdays and visitors. Children's participation in activities and bringing their Bibles or friends will earn them "
Bible Bucks
" which are then exchanged at the "
Redemption Centre
" for prizes and gifts! 9:00am can seem early for a Sunday morning. This is why at 9:25am a hot breakfast is served. Adults and children break into age groups at 9:40am for a time of instruction taught by volunteers.
Why Sunday School?
Sunday School is a natural way for children to learn songs and Bible stories in a multigenerational context. Children to know and witness the faith of adults outside of their immediate family is a foundational aspect of faith formation. Every child has something they love about Sunday School, whether it's the music, the games, the food, the "
Bible Bucks
" and "
Redemption Centre
", meeting new friends or the love for their teachers. Youth and adults have their own classes as well and enjoy fellowship and interactive learning. Sunday School classes are out by 10:10am. It's an option for Sundays when you aren't able to stay for the 10:30am service. Please be aware that rides are always available if needed.
Child Care
There is child care available during Sunday School for kids up to JK.
Sunday Service
Children are welcome during morning services. The following childcare is available:
Ages 0 to 2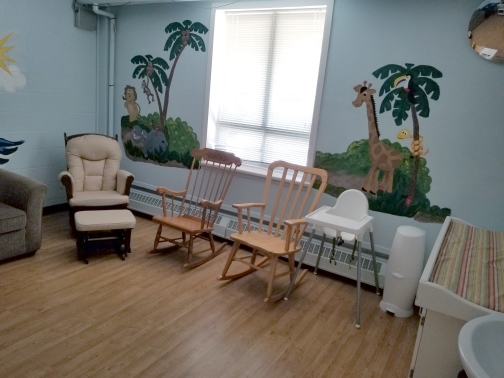 The Nursery Room is available and is staffed by screened volunteers throughout the service.
Ages 2 to 4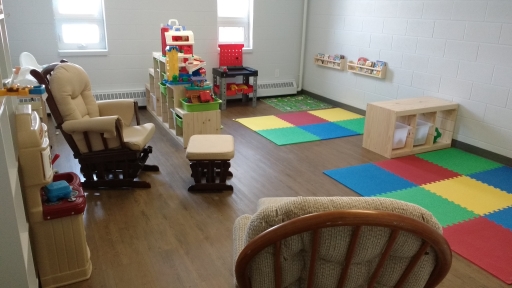 The Toddler Room is available during the service and is staffed by screened volunteers.
Grades JK to 6

Kidz' Church
Kidz' Church takes place during the Sunday morning 10:30am worship service. It is for those five years of age to Grade 6. Partway through the worship service, children are dismissed. Sometimes the material used in Kidz' Church is based on the same material as the morning worshup service. As Christmas approaches, Kidz' Church begins rehearsals for the Christmas Play which takes place the second Sunday of December during the morning worship service. We may play a game or go outside during nicer weather. As snacks are served, please let us know of any allergy or medical concerns. Parents are always welcomed to keep their children in the service if they prefer. This sometimes helps with their transition to the regular morning worship service.
Kidz' Church is an easy way for children to become accustomed to the rhythms of the Christian life. It is a great time for children of all ages to be able to fellowship together, which helps build the body of beleivers. A lot of spiritual growth has occured and friendships have developed as a result of Kidz' Church!